Supply chain solutions provider Arvato SCM Solutions is to open a distribution centre dedicated to its e-commerce business in Dorsten/Marl in North Rhine-Westphalia, Germany as it continues to expand its worldwide network.
Arvato's network currently consists of 70 locations in 20 countries, including 13 other sites in North Rhine-Westphalia. "Dorsten/Marl is part of our anchor site strategy. We are resolutely pursuing organic growth," said Arvato SCM Solutions CEO Frank Schirrmeister.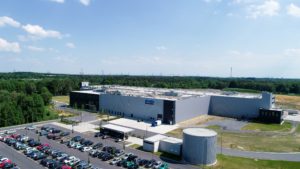 The distribution centre is in its first stage of expansion and has 60,000 sq. m. of usable space. It is equipped with state-of-the-art intralogistics systems and an adapted conveying and sorting system to ensure smooth materials flow across the various levels.
The site has 7,000 pallet spaces and 200,000 shelving spaces. It can handle up to 20,000 incoming items per day, and over 30,000 parcels and 300 pallets in outgoing goods. All comprehensive e-commerce fulfilment processes are managed with IT systems.
The logistics centre is now operating at full capacity. "With investments of around €30 million, we have created more than 300 new jobs in logistics and customer service," said Arvato SCM Solutions president consumer products Nils Klose.