Asda has installed an automated parcel dispenser for online orders at its Trafford Park store in Manchester.
The parcel tower, measure 16 ft tall by 8 ft wide allows customers to collect goods from George.com, Asos, Missguided and Decathlon as part of Asda's toyou service.
The tower, which is located within the store, has been trialled by Asda's parent company Walmart in the US. The retailer says it dispenses online orders in less than 60 seconds, and also accepts returns.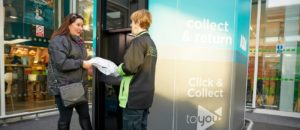 When customers visit the store, they scan a barcode sent to their smartphone at the Parcel Tower to receive their order.
Neil Drake, Asda's toyou – retail process, systems and innovation manager, said: "It's great that we've been able to work with our parent company Walmart in the US to bring this new exciting technology to the UK, so far it's been a huge success for them."
Store manager Stephen Clinton said: "We have seen a fantastic response to the quick service in the past few days and we hope it continues."