Aston Martin has opened a logistics centre in Warwickshire, which at almost 250,000 sq ft is the largest in the firm's 102-year history.
The facility at Wellesbourne is close to the company's headquarters in Gaydon. It will function as a centralised warehouse for supplier deliveries and provides production-critical materials for use in Aston Martin's global manufacturing base in Gaydon.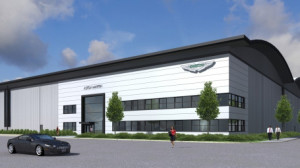 Keith Stanton, Aston Martin manufacturing operations director, said: "Ensuring we have the right materials in the right place at the right time is, of course, fundamental to our manufacturing process. As the volume and complexity of our operations increases in the months and years ahead, we will be relying on the team at Wellesbourne to help us deliver our exciting new generation of Aston Martin sports cars."
The site has secured a 'Very Good' environmental rating according to the Building Research Establishment Environmental Assessment Method.