The August 2015 issue of Logistics Manager is now available free for iPad, for Android, and online.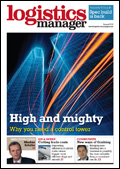 Cover story: High and mighty
Control towers are a critical way that companies can maintain visibility of logistics operations across a number of sites. We look at the pros and cons.
Analysis: Mercedes-Benz invests in logistics
The opening of Mercedes-Benz's logistics centre is part of a new strategic approach with the Supply Chain Management unit reporting directly to divisional board member Markus Schäfer.
Analysis: Can't build fast enough
An accelerating e-commerce sector has resulted in demand for new warehouses outstripping supply with developers unable to build new properties quick enough, according to a logistics think tank.
B

ring Your Own Device: Had its day?
There is evidence that some employers are turning away from the idea of BYOD.

Consultants: New ways of thinking
Companies bring in consultants for a range   of reasons, but perhaps the most valuable is to bring new thinking to a business problem.
Air and Ocean: Cutting the cost of global trade
Improving efficiency in global trade means bigger more efficient ships and aircraft. We look at how operators are boosting efficiency and cutting costs.
---
Read the August issue online
You can read this issue of Logistics Manager online. Click here to visit the site.