Home electronics company Interdiscount has opened a 22,0000 sq m automated distribution centre at Jegenstorf in Switzerland.
The shuttle warehouse, built by TGW Logistics for Interdiscount, is connected to the existing high rack warehouse and has six 80-metre aisles, 126 Stingray shuttles and 65,700 rack spaces, which allows up to 4,200 container movements per hour. The shuttles deliver to six goods-to-person PickCentres, use one-source-to-one-target assignment to eradicate picking errors.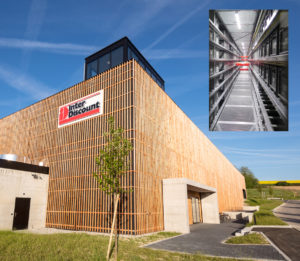 Interdiscount sells electronic products in over 180 stores and has 1,800 employees. It needed to accommodate its expanding product range of 260,000 different items on the online retail platform of sister company Microspot.ch.
The goods-in, high rack, picking and shipping areas are linked by three kilometres of KingDrive conveyors. The energy regained in braking is fed back into the system to reduce energy consumption by up to 30 per cent when compared to conventional systems.
"We wanted a solution from a single source with a competent partner and with as few interfaces as possible," said Pierre Wenger, chief executive of Interdiscount and Microspot.
"TGW seemed predestined for this task. It's impressive how professionally and smoothly everything worked out."