Automotive supplier Brose has invested nearly £2 million over the last two years into the introduction of AGVs to speed up the movement of finished goods and eliminate human error.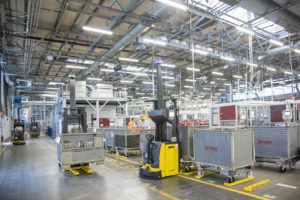 The company, which provides seat structures and window regulators to Jaguar Land Rover, Nissan and Toyota, has used its Coventry site as a pilot location for the AGVs, which are expected to make more than 650,000 different journeys every year in seat production.
"The automotive sector is extremely demanding and there is a continuous need to produce parts quicker and react to fluctuating patterns in demand – logistics is crucial to us being able to achieve this," explains Steve Wilkins, managing director of Brose UK.
The AGVs are the latest in a line of strategic investments in logistics by Brose at its Coventry facilities, including a paint plant, tugger trains and a bespoke transport guidance system.