Slow uptake of autonomous vehicles for freight could leave the UK "lagging behind other countries and missing the opportunity to reap the benefits of being a market leader in this technology", according to a report by TRL for the Cross River Partnership.
And the report, entitled "Impact of Autonomous Freight Vehicles in Central London", stresses that "Government investment is required in the development and testing of new technologies, specifically freight and logistics," and that logistics operators need to be supposed by TfL funding to push for an uptake of AV freight.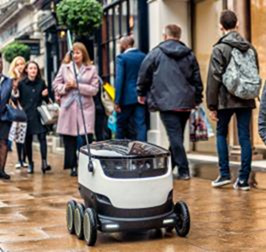 Autonomous freight vehicles do not require human supervision to carry out driving functions. The study highlights that the use of such vehicles provides improved road safety, reduced congestion and emissions.
Using AVs for deliveries and servicing can improve the efficiency of logistics operations. Deliveries can be optimised to find the quickest route in real-time, the vehicles will not need to stop to rest and can safely adjust to the surrounding environment in to safely travel at the highest possible speed.
However, AVs come with barriers. These include the cost of investing in the technology and accompanying infrastructure, the lack of existing policy to safeguard accountability, issues of cyber security and questions regarding space in central London.
These issues can easily be countered. For example, policy and regulation must be in place prior to the deployment of AV technology and trails need to be established to determine necessary AV infrastructure. Likewise, public perceptions of AV freight should also be influenced by positive media coverage.
TRL says: "Investment should be used to develop new test beds and exploit existing test beds in partnership with freight and logistics operators. Robust technology is fundamental to the successful uptake of AVs. Businesses need certainty to invest money in to developing technologies."
"This study has provided TfL and London boroughs with an idea of the potential impacts of freight autonomous vehicles, and a useful consideration of how we may need to adapt to their arrival," said CRP programme manager Vicky Keeble.