The 20th Anniversary Supply Chain Excellence Awards, organised by Logistics & Supply Chain magazine, are now open for entries.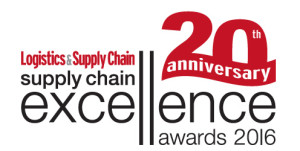 Over the past 20 years, the Awards have become established as the gold standard of supply chain achievement. All shortlisted entrants must make a presentation to a judging panel made up of supply chain experts.
But the winners will join an elite list of global leaders such as Vodafone, BASF, Danone Baby Nutrition, Waterstones and GlaxoSmithKline.
The winners of the 2016 Awards will be announced at a glittering ceremony at the London Hilton on Park Lane on Monday14th November.
In 2015, more than 600 guests saw book retailer Waterstones become Overall Winner, fighting of strong competition from Rhode & Schwarz, Philips Consumer Lifestyle, Suzuki GB, and the Department for International Development with Crown Agents and International Procurement Agency.
The Individual Contribution award went to Birgitte Stalder-Olsen, head of logistics at the International Federation of Red Cross & Red Crescent Societies. Birgitte led the organisation to win the Overall Award in 2006.
Since the awards were launched 20 years ago, the number of annual entries has grown steadily. Last year 72 companies made it to the final stage of the awards judging.
What makes the Supply Chain Excellence Awards special is the stringent process to analyse supply chain performance. Our judging team is made up of senior industry figures who bring years of experience to bear. Shortlisted companies are asked to make presentations to our judges and face detail questioning from panel members.
It's a uniquely exhaustive process that makes the Awards uniquely worth winning.