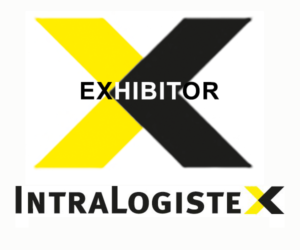 It's back to normal for IntraLogisteX in 2022 as the doors opened this morning on day one of the UK's largest and only annual intralogistics showcase – back to its normal springtime March date in the calendar (albeit the weather has other ideas!), back at the recently rebranded Coventry Building Society Arena. And judging from the busy aisles on this first of two days, it's back to normal for the attendance figures.
There is a buzz about the hall. Visitors are keen to hear about and see the very latest in warehousing and supply chain solutions – innovations that have been developed specifically to help managers overcome some of the challenges that have arisen over two tough years for the sector. Advances in IoT are especially evident among the products on show, with most of the world's leading automation specialists in attendance.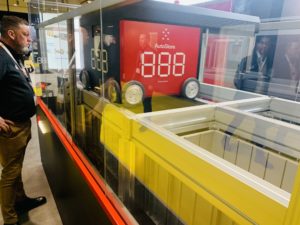 In total, more than 140 exhibitors are showcasing their technologies and services in the Ericsson Exhibition Hall, many of which are using IntraLogisteX as the international launchpad to the global marketplace. What once was a UK show has quickly blossomed into an international event.
Vertical storage lift company, Randex (Stand 514), chose IntraLogisteX 2022 for the public launch of its new 'Compact' system, built using its automated vertical storage technology.
Berkshire Grey (Stand 820) – a developer of AI-enabled robotic solutions designed to automate supply-chain processes – is discussing, among other products, a reverse logistics solution to help retailers accelerate the re-sale of returned goods and improve labour utilisation in the returns process.
iFollow is showcasing its premium, slimline autonomous mobile robots. "We are letting visitors know about our latest agile automated intralogistics techniques involving robots for a broad range of applications in different sectors including grocery, manufacturing and logistics," said Frazer Watson, UK & Ireland Country Manager (Stand 130).
The latest trends in the sector are clearly demonstrated by the products on show. "The explosive growth of e-commerce in recent years has radically changed the dynamics of the DC," says Craig Whitehouse, Managing Director of Invar Integration (Stand 902). "The emphasis is now firmly on picking, packing and processing small orders consisting of singles or few items – operations that tend to be labour intensive and space hungry."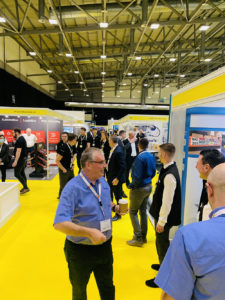 It's a well-oiled cliché in exhibition circles, but quality always outweighs quantity, and the exclusivity of the audience at IntraLogisteX, controlled by a strict approve and deny process, has proved to be popular once again. "If the conversation I had just now is the only conversation I have over the next two days, it would have been worth it," enthused Jo Bradley, Business Development Manager at Sparck Technologies (Stand 500). "We recently sealed a deal with a customer who we met at the exhibition last year," she added. "We exhibit here because we know the quality of visitor is always very good."
And once again, there is an engaging and interactive conference theatre, within which visitors can hear more detail about some of the solutions on show in the exhibition. James Hart, Business Development Manager at Lucas Systems, kicked-off proceedings with a presentation about optimising robots and workers using AI. Edern Raux, Pre-Sales Engineer at Exotec (Stand 721) and Mike Hilton, Sales Director at LAC Conveyors & Automation followed that up by focusing on the advantages of the company's goods-to-person 'Skypod' system. And Berkshire Grey's Neil Berry, Senior Vice President & General Manager, EMEA, and Lucas Irving, Head of Solutions, then posed – and answered – an important question for many. Just where do you get started with robotic automation?
The answer to that question and many more can be found here today and tomorrow at IntraLogisteX.