Herbs and spices company The Bart Ingredients Co has taken a 139,061 sq ft speculatively developed logistics warehouse at Barwood Capital's Junction One, Central Park as its new headquarters and distribution centre.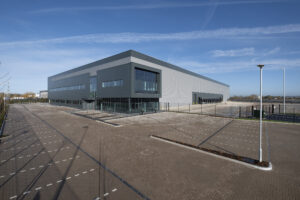 Bart, part of German food giant Fuchs Group, has taken a 15 year lease on the property where it will consolidate its three Bristol operations.
The facility, adjacent to the new M49 junction (J1) is within the Avonmouth Severnside Enterprise Area and has been developed jointly with British Airways Pension Trustees.
Bart Ingredients has appointed Bis Henderson, the specialist supply chain and logistics consultant, to project manage the fit-out works for its new manufacturing and distribution building.
James Dorman, chief operating officer at Bart Ingredients, said: "While we continue to operate across our existing premises, we've wasted no time in starting the fit out of our new HQ. We will start moving over our production and packing facilities from our three sites in January 2021.
"This new home marks an exciting next stage for our future growth plans and is the culmination of several years' efforts to bring our expansion capabilities under one roof and to meet our fast-growing customer requirements."
Savills and Knight Frank acted on behalf of Barwood Capital and British Airways Pension Trustees. Curve Projects was the project manager on the development.