New car registrations in the UK fell for the third consecutive year in 2019 despite a 144% year-on-year increase in the sale of battery-powered cars.
According to data released by the SMMT new car registrations for 2019 stood at 2.31 million, down 2.4% from 2.36 million in 2018.
Registrations in the UK peaked in the decade during 2016 at 2.69 million, and the market has fallen consistently since then, however sales are up from a decade-low of 1.9 million units registered in 2011.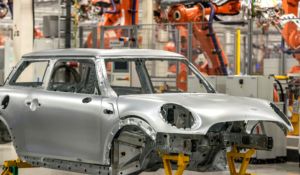 SMMT chief executive Mike Hawes said: "A third year of decline for the UK new car market is a significant concern for industry and the wider economy. Political and economic uncertainty, and confusing messages on clean air zones have taken their toll on buyer confidence, with demand for new cars at a six-year low.
"A stalling market will hinder industry's ability to meet stringent new CO2 targets and, importantly, undermine wider environmental goals," he warned.
Sales of battery-powered vehicles rose 144% to 37,850 units in 2019, yet still only account for 1.6% of all new vehicles registered (compared to 0.7% in 2018). Diesel market share fell from 31.5% to 25.2%, while petrol market share rose from 61.9% to 64.8% year-on-year. The SMMT said that sales of diesel-powered cars have fallen for 33 months in a row.
"We urgently need more supportive policies: investment in infrastructure; broader measures to encourage uptake of the latest, low and zero emission cars; and long term purchase incentives to put the UK at the forefront of this technological shift," said Hawes.
"Industry is playing its part with a raft of exciting new models in 2020 and compelling offers but consumers will only respond if economic confidence is strong and the technology affordable."
The best-selling vehicle in the UK in 2019 was the Ford Fiesta, followed by the Volkswagen Golf and Ford Focus.
Market-leader Ford's full-year market share fell year-on-year to 10.2%, from 10.7% in 2018. Second-place Volkswagen rose its market share for 2019 from 8.6% to 8.8% with third-place Mercedes-Benz raising its market share from 7.3& to 7.4% during the same period.