Europa has reorganised and rebranded its business with Richard Cronk becoming director of Europa Warehouse, Europa's newly rebranded logistics operation.

Europa has launched a dedicated road freight business Europa Road. Europa Worldwide becomes Europa Air & Sea and specialist exhibition freight services becomes now Europa Showfreight.
Managing director Andrew Baxter, who bought the business in August 2013, said: "The original Europa branding that we inherited had worked really hard over the years but was no longer representative of how the business has evolved, and like many other long standing designs had started to be used a little inconsistently.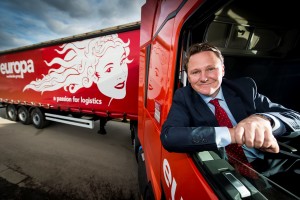 "With so much happening in the business it seemed timely to change the branding now. This is a huge investment for the business but it is timely, with the forthcoming opening of the Dartford hub to have a renewed look.
Cronk has spent 36 years working for Europa, most recently as operations director where he was responsible for building the European and domestic network and developing its UK business in Erith and Northampton.
He will be responsible for expanding 3PL warehousing and logistics operations, covering sites in Birmingham, Erith and Northampton. The business is set to increase further with the opening in the spring of a 264,000 sq ft facility based at Prologis Park in Dartford.
"Now having the new divisional name and emblem we have re-aligned the business structure and re-assigned staff roles to ensure that the offer is focused on customer service, customer satisfaction, and on strengthening relationships with our client base," said Cronk. "My new role means that I'll still be responsible for some of Europa Warehouse's key accounts and will also be working with some blue chip clients."