Work has begun at Bedford Link Logistics Park for the construction of three new logistics warehouses comprising 106,000 sq ft, 50,000 sq ft and 32,000 sq ft to be ready for 2019.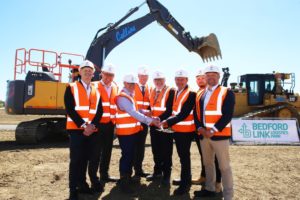 The buildings are part of phase two of a larger development that is to deliver 700,000 sq. ft. of modern logistic space, representing a £70 million investment by LondonMetric. The first phase to the deliver infrastructure to the site has been completed.
"This welcome investment is further recognition of Bedford Borough's status as a strategic location for business," said Bedford mayor Dave Hodgson. "There was a lot of interest in this site which demonstrates its attractiveness and its very favourable location. I look forward to the completion of the construction work and the many jobs that will be created for local people."
The logistics park is expected to create an estimated 1,000 jobs.