Cartwright has designed a new 4,650mm low height double deck temperature-controlled fridge trailer for major customer Culina Logistics without compromising Culina's 1,830mm cage height requirement on each deck.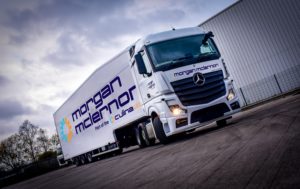 Culina Logistics was distributing to a large supermarket customer in the Republic of Ireland which has a restricted access height of 4,650 mm in the Dublin Tunnel meaning that Culina's 4,880mm high trailers could not enter.
The new 4,650mm trailer enables Culina enter Ireland and the reduced height promises less damage caused by trees and low bridges and a reduction in trailer weight, increasing the payload. The new trailer also increases fuel economy up to 4 per cent.
"The task required different manufacturing and assembly techniques which we were already familiar with, but when we weight tested the deck there was no residual deflection whatsoever," said Cartwright technical director Lionel Curtis. "The deck was carefully designed and analysed to make it work with different materials and processes. This project needed some careful structural design but we are very pleased with the results."
Culina expects to roll the new design out to its entire fleet across the U.K, describing it as a 'game changer'.