Bibby Distribution has added seven vehicles to its milk collection fleet that are designed to reduce fuel consumption by using an improved hydraulic pump drive and a Gardner Denver Optiload engine management system which ensures the engine only runs while pumping.
The company reckons that the new vehicles use, on average, 53 per cent less fuel during the process of milk collection on the farm than conventional assets.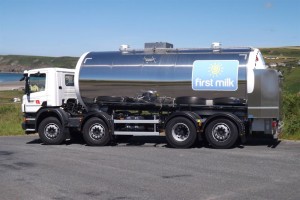 To develop the vehicles, the team at Bibby worked with tank builders Sayers Road Tankers and Crossland Tankers to customise Scania 32-tonne eight by two rigids.
The Euro VI trucks are part of a fleet of 50 vehicles that collect 2.5 million litres of milk daily for First Milk, and Bibby calculates that converting all of them will result in a saving of 1,700 tonnes of CO2 over the next five years.
First Milk distribution manager Robin Shipton says: "With new technology comes new opportunities to cut costs and carbon; Bibby Distribution's enthusiasm to deliver that innovation exemplifies our relationship. They are a reliable, trustworthy partner which continues to provide bespoke solutions for us and give us the flexibility we need to successfully process highly variable collections and deliveries, which is absolutely critical to our business."