Bibby Distribution has renewed its deal with Trakm8 for a further five-years to provide GPS trailer tracking across its 1,300 trailers and tankers.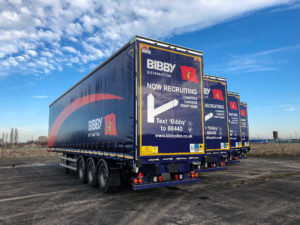 The trailer tracking technology allows commercial vehicle fleet operators to monitor the mileage and location of active trailers, as well as locating under-utilised fleet assets, and allows for the creation of geo fences to safeguard against the unauthorised use of  trailers.
Adam Purshall, fleet and procurement director at Bibby Distribution, said: "With a mixed fleet which encompasses some 1,300 trailers across our 50 operating centres nationwide, the ability to track and manage those trailers is business critical, ensuring we can proactively manage our customers deliveries and manage our valuable assets." 
Purshall said that over the previous five years of the deal it had increased its trailer utilisation by 15%.
"Working across the FMCG, food ingredient and packaging sectors, we need our fleet to be dynamic and need to have the ability to flex in line with customer volumes– something the Trakm8 solution has helped us achieve."