Bis Henderson Group, previously representing the company's Recruitment, Space, and Consultancy businesses, will now be split into two, with Bis Henderson Recruitment continuing as an independent company and Visku launching as a combination of the Space and Consultancy businesses.
"We are so much more than a recruitment consultancy business," was the message relayed by Chief Executive of Visku Andy Kaye at the new brand's launch event.
Visku will be, as Kaye describes, "a single business, a single entity, with a single management structure".
The new name was picked to represent two key parts of the business; 'Vis' referring to the aspiration of being visionary, and 'Sku' referencing stock-keeping units (SKUs) to signify its principle of caring for every SKU. The first two letters, 'Vi', also link with the company's expanding virtual network, which will play a key role in Visku's operations going forward.
As the Bis Henderson name is "synonymous with recruitment", it is hoped that moving forward with the other parts of the business under the new name will allow Visku to bring more attention to its work within the property sector.
With over one million available pallet spaces in the UK and over 16 million ft² of available warehousing space in its network, Visku offers customers help finding the right space for them. It aims to use its network and expertise to help customers with excess space to find occupiers to make use of it, and those who might need space to potentially find it within existing warehouse.
Visku works with over 200 of its partners to offer space, being agnostic and independent. It believes that this allows it to offer customers the most appropriate space, rather than having to shoehorn them into a facility owned by Visku itself.
Ensuring that firms are taking a space that is suitable for them for the right length of time can deliver financial and sustainability benefits. "Right-sizing is important," said Louisa Hosegood, Visku's Transformation and Strategy Director, adding that improving sustainability is "not just a tick-box exercise".
Additionally, shorter term leases offer customers flexibility and agility, which is key in today's uncertain landscape, where there is – as Visku's Managing Director of Warehousing Steve Purvis puts it – "more uncertainty in the market".
Logistics Manager spoke to Chief Executive Andy Kaye about what this change in direction means for the company. Here's what he had to say: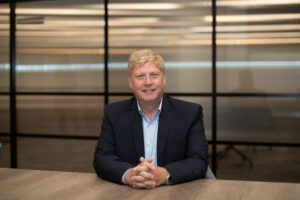 In your own words, what was the motivation behind the rebrand and what value do you see in combining Bis Henderson's Space and Consulting businesses?
"I think we had to repurpose our business, particularly in Space and Consulting. We listened to our customers – we've always been very customer-centric – and what we've done is we've effectively evolved our business by putting our Consulting business together with our Space business and creating a product set, which we think is much more customer-facing.
We're in the privileged position that we work with many partners (3PLs, technology providers, robotics and automation providers, etc) and we're in the unique position that we're able to pull all of those together for the benefit of our customers and give the customer what's right for them and not necessarily what's right for the partner.
This is so much more than a relaunch, what we've done is we've restructured our company now to actually be far more market-facing and far more customer-centric."
How will Bis Henderson Recruitment and Visku be connected going forward?
"We've been a single team until this point. The fact is the Bis Henderson Recruitment business now has got a separate legal structure but of course the team talk every day. I'm still the Chairman of Bis Henderson Recruitment and I'm the Chief Executive of Visku. We've got individuals in our business who are talking to the Recruitment business all the time and Recruitment talk to us all the time because we have customers in common.
We might be recruiting a supply chain director for a business through the recruitment business, but then of course what we might do is go and do consulting work for that individual as well. That's how it works and that's how it's always worked."
Sustainability seems to be a key aspect of Visku's strategy going forward – why do you feel that is something that it's important to offer customers?
"I think it's imperative. We've got to look after the planet. We have to look after the next generation. We have to be responsible about how we do that. Frankly, the carbon footprint of this industry is massive, and what we've got to do is everything we possibly can to reduce that carbon footprint. We are responsible for how we make the best use of our assets and in essence, everything we do is about asset utilisation and avoiding having to break ground and build new warehouses."
What are you doing to ensure that the properties in Visku's network meet sustainability standards and will continue to do so for years to come?
"It's an ongoing process. You audit those facilities today, you audit them against certain standards and certain capabilities, but then you are constantly evolving and constantly back-checking. We are constantly reporting against that with our Space business."
In today's property market, what value do you see in offering flexibility to customers?
"I think organisations live in very uncertain times now. The world that I lived in 10 years ago is different to the world I live in now.
Factors [such as Brexit, the pandemic, and war in Ukraine] have created global uncertainty and what global supply chains need is certainty, but they also need to be agile and be able to change and flex to meet changes in the macroeconomic environment. That, in a nutshell, is why organisations need flexibility."
What is the importance of virtual and digital technologies to Visku's business going forward?
"What we've talked about so far is a very large network of space and if you think about where this thing is going and what we're doing today, what we're effectively almost doing is we're creating a 'pallet hotel'.
If you're creating a 'pallet hotel', then clearly what you've got to do is allow customers to go onto a website and book space in the 'hotel'. To do that at scale and do it quickly and efficiently, there has to be a technology aspect to that. Effectively, what we're doing now is investing very heavily in technology to allow us to do just that and to allow customers to effectively self-serve."
Don't forget to book your table for the biggest event in the supply chain calendar: the Supply Chain Excellence Awards! Now in their 27th year, the awards will take place on 9 November at the London Hilton on Park Lane. Click here to find out more about attending or sponsoring!