Book your ticket for Brexit – it's a must!
Has your organisation booked its ticket for Brexit? For most of The Chartered Institute of Logistics and Transport's corporate and individual members, I passionately believe that positive and immediate action is required if we are to successfully negotiate Brexit, writes CILT chief executive Kevin Richardson.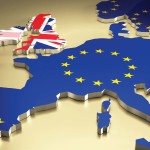 Whether you voted for Brexit or not, it really doesn't matter; it is here now, it is happening and we must work together to ensure the future success of our profession, so that we can continue to propel national economic growth.