The impact of Covid-19 on supply chains has led to a 200% increase in storage requirement enquires at Solent Gateway in Hampshire.
Solent Gateway is a joint venture between David Macbrayne Ltd and GBA (Holdings) Ltd to develop and manage the Port of Marchwood.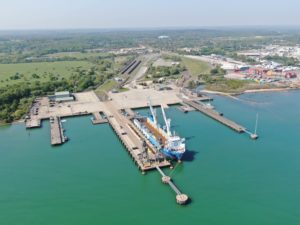 Chris Anderson, head of business development at Solent Gateway. said: "We've seen a 200% increase in enquiries for storage requirements since the start of the pandemic and where other ports are grinding to a halt, we have the capacity to absorb the overflow.
"We currently have 25 acres available for immediate use and are working actively to unlock more to meet demand."
The admission comes as Southampton-based Meachers Global Logistics has acquired a 20,000 sq ft warehouse at Solent Gateway in Marchwood, Southampton.
Meachers said it took on the site to accommodate a 20% increase in demand for storage since the Covid-19 pandemic took effect.
Gary Whittle, commercial director, Meachers Global Logistics, said: "The coronavirus outbreak has forced many supply chains to back up as companies with surplus goods have nowhere to ship it.
"Obviously the knock-on effect of this is needing storage for the goods until the country starts to get moving again, so we have needed to take on additional warehousing locally to ensure we can meet the needs of customers during this time."