The UK's Prime Minister today opened the much anticipated Tilbury2 which is owned by Forth Ports.
Visiting the Thames-based port, the Prime Minister was given a tour of the country's largest freight ferry terminal, the site of which will become the UK's largest construction processing terminal and new border infrastructure.
He also met the port's key workers, apprentices, and customers such as P&O Ferries and Tarmac.
Built and operational during the pandemic, the port terminal handles containers and trailers with exports and imported goods, including food, drink, and medical supplies to and from continental Europe on P&O Ferries' Tilbury-Zeebrugge freight route.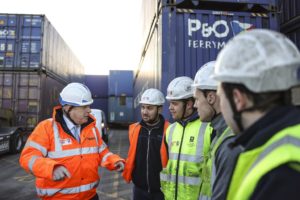 The site also handles Tesco's new refrigerated train service to Scotland's premier freight hub at the Port of Grangemouth.
Tilbury2 is a £250m investment by Forth Ports Group on a former power station site spanning 160-acres.
"It was an honour to officially open Tilbury2, the UK's newest port, and meet with key workers and apprentices on site," said the Prime Minister.
Adding, he said: "Freeports are driving trade, investment and jobs right across the country and helping to capitalise Brexit."
"The burgeoning logistics cluster at Tilbury has been boosted by Thames Freeport status and is primed to be part of global Britain's future as we look to drive forward sustainable growth, with manufacturing, next generation logistics and clean energy generation at its heart," added Charles Hammond OBE Chief Executive of Forth Ports,