Boughey Distribution is to replace its fleet of tractor units with 100 new Mercedes-Benz Actros following a three month trial of trucks from four manufacturers.
It has taken delivery of the first 25 Actros 2545 trucks with BigSpace cabs, 449hp engines and automated transmissions.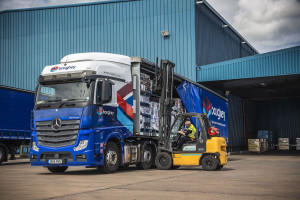 The evaluation involved a fuel-efficiency comparison. Group fleet engineer Paul Brimelow said: " "Not only was it [the Actros]the most economical of the contenders, but it was also the most consistent, with smaller variations between the different drivers. When we crunched the numbers it was a clear winner in terms of whole-life cost."
The order went to Dealer Roanza Truck & Van. Boughey maintains its fleet in-house but Roanza has supplied training and diagnostic equipment for the operator's technicians, as well as installing an imprest parts stock which is managed on site by one of its parts-men.