Speed and quality is of the essence in the fast changing world of logistics and supply chain for retailers, wholesalers and manufacturers across all sectors. With the growth in online sales, the demand by customers for the 'now delivery' is making retailers and their logistics delivery partners look for automation and robotics solutions to speed up the usually manual processes of picking and packing.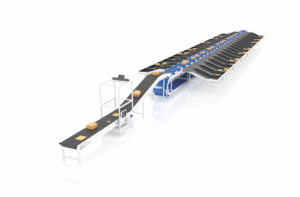 BÖWE SYSTEC – the leading European provider of high speed inserting, card logistics, reading, technology, mail and parcel sorting and innovative software – has created a partnership with some of the 'best in breed' automation and robotic specialists. This unique partnership is already providing customers with a 250% average productivity gain by choosing an automated solution. For those starting from a 100% manual system over 750% productivity gains have been reported when an automated solution has been implemented.
The partnership already includes Stockrail International – which has a thirty year pedigree in storage and materials handling – and Red Ledge a leader in intelligent manufacturing and logistics systems control specialists. New for 2018 is RoboSavvy who supply Tugbot Automated Guided Vehicles. Tugbot can be implemented quickly – as Tugbot uses a combination devices including cameras, lasers, sensors, beacons, and GPS, it can deliver results without having to change facility infrastructure, allowing workers to be reassigned to higher-value activities. The intuitive user interface gives the user the ability to easily create maps, sketch work areas and define paths.  Work plans can be created within minutes and can be reconfigured whenever necessary.