Plaster and plasterboard provider British Gypsum, part of Saint Gobain group, is to import materials through AV Dawson's Teesside freight terminal in Middlesbrough. 
Products will arrive at AV Dawson's berth by ship, be unloaded into storage and then loaded into trains for daily deliveries to the East Midlands area.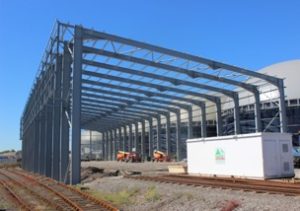 The contract will bring ten new jobs at AV Dawson and over £2 million investment in new facilities and plant equipment. This will include a £1 million purpose-built canopy to store the product which will allow a direct rail link to enter to enable the product to be loaded directly onto trains without any weather interference which may damage the product.
"We awarded this new contract to AV Dawson because of the flexible and environmentally efficient solution they've provided to our business," said Kevin Flinton, Saint Gobain's senior procurement manager. "We also liked that the business was prepared to take a long term view; investing further in its facilities to ensure it could deliver the highest quality service for us."