Britvic is building a 100,000 sq ft automated clad-rack warehouse at its site a Aventine Way in Rugby.
Architects Stephen George + Partners have been selected to deliver the 35m high building which will have a fully automated storage solution and structure designed by Logistex.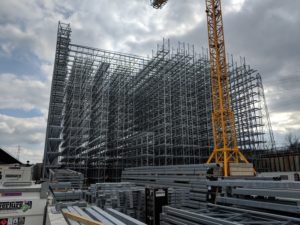 The project started on site in March 2017 and is expected to be completed in November 2018.
The cladding on the 104,873 sq ft building acts a simple wrapper around the structure and SGP chose a high performance composite material. Director Lee Wong said: "The way the structure of the building is formed through the storage structure makes this a unique project for SGP, and we have worked closely with the client to create a design that is functional, thermally efficient and minimises construction time."
Britvic is investing more than £100 million at Rugby as part of a broader £240 million three-year investment programme designed to increase manufacturing capability.
Britvic and PepsiCo products currently manufactured at Rugby include: Tango, Britvic orange juice, Purdey's, Pepsi, 7UP, and Lipton ice tea.
Britvic is one of the UK's pioneers of automated warehousing. It's 275,000 sq ft national distribution centre at Lutterworth was a showcase for automation technology when it opened in 1994.