BT is to move from buying to strategic sourcing, consolidating its spend from its current 18,000 suppliers, as part of a plan to transform its operating model that save £1.5 billion over three years.
It also wants to drive productivity improvements in its core UK operations, including process simplification and automation to reduce costs.
In addition, it will cut 13,000 back office and middle management roles, and move its head office out of London.
The company saw adjusted EBITDA fall two per cent to £7.5 billion in the year to 31st March, while revenue was down one per cent at £23.7bn.
Chief executive Gavin Patterson said: "We have the UK's leading fixed and mobile access networks, a portfolio of strong and well segmented brands, and close strategic partnerships. We provide products and services that are essential to both consumers and businesses, delivered through multiple channels to suit their needs. This position of strength will enable us to build on the disciplined delivery and risk reduction of the last financial year, a period during which we delivered overall in-line with our financial and operational commitments while addressing many uncertainties."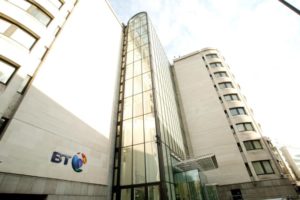 The company said it is critical that BT transforms its operating model to build a lean and agile organisation that delivers sustained improvement in customer experience and productivity. BT therefore intends to:
– Simplify its operating model including fewer, bigger, more accountable leadership roles and de-layering its management structures;
– Accelerate the restructuring and transformation of Global Services by introducing new digital products with a greater focus on our top global customers, reducing capital intensity, and lowering costs;
– Focus on around 30 modern strategic sites to create a more collaborative, open and customer focused working culture, reducing the inefficiencies that exist by being housed in numerous sites across the UK. As part of this, BT plans to exit its headquarters in Central London;
– Move from buying to strategic sourcing, consolidating our spend from our current 18,000 suppliers and designing and standardising our products to meet market needs while reducing the total cost of ownership;
– Deliver deeper penetration of digitalisation to improve customer experience and costs to serve.
It expects this plan to deliver:
– A three year reduction of some13,000 mainly back office and middle management roles;
– A year three cash cost reduction of £1.5 billion with costs to achieve of £800 million and two year payback;
– Cost reductions to help offset near term cost and revenue pressures, provide capacity to invest in value enhancing growth projects and drive longer term profit growth;
– Some 6,000 new hires to support network deployment and customer service.