Builders have completed construction of the structure of a 21,600 sq m warehouse at Budapest Airport's dedicated freight terminal, BUD Cargo City.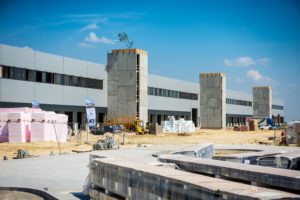 Rene Droese, chief property and cargo officer, said: "The topping out ceremony marks another important step towards the opening of BUD Cargo City, which will cement our position as the air cargo hub for Central and Eastern Europe."
BUD Cargo City will also include a dedicated forwarder building measuring 11,200 sq m and a 32,000 sq m concrete apron.
This will provide additional new parking positions for the simultaneous handling of two Boeing B-747-8F type aircraft, enhancing cargo apron capacities.