Budweiser brewer Anheuser-Busch has ordered up to 800 hydrogen-electric powered artics from the Nikola Motor Company, which will be delivered from 2020.
A-B aims to convert its entire long-haul fleet to renewable powered trucks by 2025. "At Anheuser-Busch we're continuously searching for ways to improve sustainability across our entire value chain and drive our industry forward," said chief executive Michel Doukeris.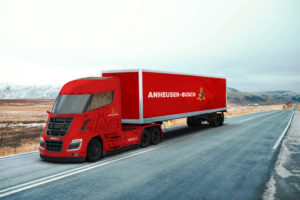 "The transport industry is one that is ripe for innovative solutions and Nikola is leading the way with hydrogen-electric, zero-emission capabilities. We are very excited by the possibilities our partnership with them can offer."
Nikola says the hydrogen fuel cell trucks will be able to travel between 500 and 1,200 miles and be refilled within 20 minutes, reducing idle time.
"Hydrogen-electric technology is the future of logistics and we're proud to be leading the way," said Nikola chief executive Trevor Milton.
"Anheuser-Busch has a long history of investing in progressive, sustainable technology and we are excited to partner with them to bring the largest hydrogen network in the world to the USA. By 2028, we anticipate having over 700 hydrogen stations across the USA and Canada. With nearly $9 billion in pre-order reservations, we are building to order, not speculation, and are very excited for what's to come."
Nikola was named after electrical engineer Nikola Tesla. It unveiled the Nikola One semi-truck in 2016. In January 2018, it set out plans to build a one million square foot factory near Phoenix in Arizona to build the new truck. Milton said at the time: "We will begin transferring our R&D and headquarters to Arizona immediately and hope to have the transition completed by October 2018. We have already begun planning the construction for our new zero emission manufacturing facility in Buckeye, which we expect to have underway by the end of 2019."
*Nikola Motor Company has filed a $2 billion lawsuit against Tesla alleging design patent infringements, according to a report by Reuters. Nikola argues that Tesla's Semi is substantially similar to Nikola's design.