Essex-based logistics operator Canute Group is launching "Canfund" a supply chain finance initiative to enable sub-contractors to draw down invoiced funds and collect payment as soon as it is required.
The aim is to enable SME hauliers to maintain their cash flow. Canute currently has a network of 650 hauliers that it works with on an ad hoc basis, as well as its own fleet of several hundred vehicles.
Canute said banks and financial institutions have been slow to step in and assist the industry, channelling their support into 'sexier' sectors like digital media and IT, aerospace, environmental and alternative energy technologies and advanced manufacturing.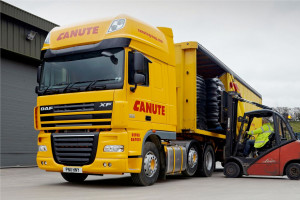 Sales director David Emslie said: "Maintaining a reliable and consistent relationship with capable subcontractors is a vital support mechanism for our core fleet, and as our volume continues to increase, subcontractors who can become a genuine extension to Canute's portfolio are becoming a necessity.
For a number of years we've been aware of a serious lack of support for smaller hauliers from financial institutions and not only is this putting reliable and capable subcontractors out of business but it obviously has a knock-on effect for us as contractors too.
Canfund will work in a similar way to 'reverse factoring'. Firms can apply to become a Canfund accredited supplier, and once approved they can immediately access a central portal which lets them view and retrieve their outstanding invoices from Canute's purchase ledger. That could be on the same day.
Hauliers can be paid in full for any invoice registered within the Canfund system, within a period or date chosen by the supplier; alleviating pressures on cash flow and credit control. The scheme goes live on 1st February.
"We genuinely believe that this will have an extremely positive impact on the industry and give subcontractors a major boost," said Emslie.