Hermes has taken on 244 specialist home delivery box vans and 70 tractors on contract hire from Cartwright Fleet Services.
30 of the Iveco tractor units are fuelled by compressed natural gas and the remaining 40 tractor units are diesel. It was delivered in time for the peak Christmas period.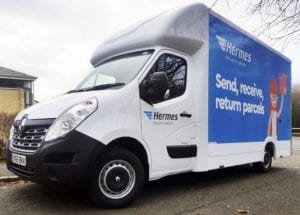 The fleet is maintained by CFS through its nationwide network of service centres to provide a seamless and comprehensive fleet solution.
"Working with Cartwright enables us to receive an end-to-end managed solution for our fleet, which is efficient and helps us to manage our vehicles through one dedicated point of contact. It has been particularly useful during our busiest period of the year, – between Black Friday and January," said Hermes head of client and network distribution, Martin Colloff.
"We deliver more than 330 million parcels each year to customers across the UK and Cartwright's support enables us to continually improve and exceed our standards."