Abbey Logistics chief Steve Granite has led a management buyout of the business in a deal supported by NorthEdge Capital.
Liverpool-based Abbey specialises in the transport of bulk food products in liquid and powder tankers across the UK and Northern Europe. It employs more than 450 staff and operates from nine UK sites including Wirral, Hull, Manchester, Knowsley, Middlewich and London.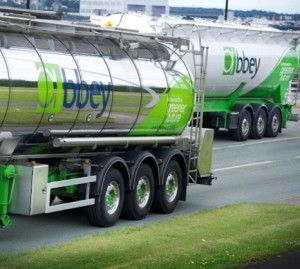 Abbey Logistics was set up more than 25 years ago by the Lucy family and this deal, for an undisclosed sum, will provide an exit for the founding family.
The business will continue to be led by Steve Granite as chief executive and Dave Coulson as commercial director.
Granite said: "We are delighted to have partnered with NorthEdge to complete the MBO and enable the Lucy family to exit the business.
"It is an exciting new chapter in the company's life and we are very much looking forward to continuing the successful journey we have experienced to date. Our customers and employees will see the benefit as having a new partner on board will enable us to develop our business and continue growing from solid foundations. Through organic and acquisitive growth, Abbey will become the market leader in both the liquid and powder transport markets in the UK."
Abbey has been growing through a mix of contract wins and acquisitions. Turnover five years ago was £20 million and it is expected to rise to £55m for the 2017 financial year. It has a fleet of 350 tractor units and 570 trailers/tankers operating across the UK and Europe. The business transports food and non – food products by liquid tankers, bulk powder tankers and palletised trailers in addition to operating a 140,000 sq ft ambient warehouse at Bromborough on the Wirral. It is also a shareholding member of the Pallet-Track network.
Abbey will target growth with new and existing customers, as well as exploring a number of acquisition opportunities that management has been progressing in parallel to the MBO with support from NorthEdge Capital.
NorthEdge director Jon Pickering led the transaction, with support from investment manager Dan Matkin and portfolio director Ben Wildsmith. Private equity experienced chairman Ian Kelly joins the board at completion. The board will be further strengthened post completion with the appointment of an industry veteran who will act as non-executive director and a logistics specialist group chief financial officer who has been identified pre investment.
Jon Pickering, director at NorthEdge Capital, said: "Abbey Logistics is led by an exceptional management team who has been with the business for more than 20 years. They fully understand the specialist logistics market they serve having carved out a niche by distributing bulk powders and liquids for the food ingredients markets. The company has demonstrated growth through a number of major contract wins and targeted acquisitions and this strategy will continue going forward with our support and follow on funding. We are pleased to have provided an exit opportunity for the founders and are looking forward to working with Steve and Dave as we target further expansion across the UK and Northern Europe."