As a supplier to fulfilment centres and into the third party logistic sectors, at Storopack we have always placed a strong emphasis on sustainability and the recyclability of our protective packaging.
We work with customers, to meet the growing demands of consumers for sustainable packaging solutions.
Storopack is an international, family-run business, and is a globally leading system and service supplier for flexible, tailored protective packaging. With 66 locations in 18 countries, we deliver innovative, sustainable packaging solutions for a wide range of industries and applications, around the world.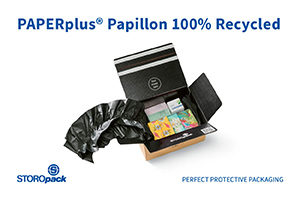 Sustainability and Environmentally Responsible Products
As a responsible manufacturer, Storopack's commitment to innovative sustainable packaging continues and significant resources are invested in maximising environmental practices.
Download the Storopack Sustainability document here.
We provide a range of renewable, responsibly sourced products for in-the-box protective packaging. Our products are certified by the markets we operate within as recyclable and compostable. In terms of protective packaging each product has its very own requirements, and this is why we not only offer our extensive selection of protective packaging, but also provide decades of experience.
The extensive portfolio includes: AIRplus® air cushions, PAPERplus® paper pads, FOAMplus® foam padding and PELASPAN® and PELASPAN® BIO Loose Fill.
Paper pads are 100% recycled, AIRplus® air cushions includes a 50% minimum recycled range, and AIRplus® bio film products and PELASPAN BIO® bio grade Loose Fill packaging chips are certified compostable in accordance with DIN EN13432. FOAMplus® Polyol B foam B component has 30 percent recycled polyurethane.
To learn more about the Storopack offering here.
Working Comfort® packaging solutions FREE consultation
With increased focus on waste reduction, Storopack's Working Comfort® offers the opportunity to improve operations.
We offer a free warehouse optimisation analysis service. With the Storopack Working Comfort® process, our in-house technical experts provide sustainable integration packaging solutions for all types of warehouse operations. Designed to deliver increased productivity, and reduce costs within a safe working environment.
To find out more click here.
Storopack Support for Global Environmental Initiatives
Storopack proudly supports global initiatives to end plastic waste and is a sponsor of the Big Blue Ocean Cleanup, a member of the global initiative – Alliance to End Plastic Waste and part of the Operation Clean Sweep program.
You can find us via our website www.storopack.co.uk email us at: [email protected] or call us on + 44 (0) 114 249 2004.