CM Downton, part of EV Cargo, will be offering chilled and ambient logistics under the new name of EV Cargo Logistics.
The rebrand is part of a business move that will allow the company to expand its customer offering by streamlining its operations across the UK.
The Downton brand will not disappear entirely, as trailers will continue to have an element of the old branding in the future.
Zac Brown, managing director of CM Downton, said of the rebrand: "The move will signal an exciting new chapter in the company's history, helping to secure long-term growth and success under a global brand."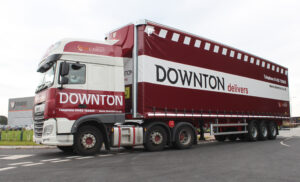 Duncan Eyre, chief executive of EV Cargo Logistics, added: "The Downton name is synonymous with service and an ethos to go the extra mile for its customers. Rebranding to EV Cargo Logistics will allow it to build on that legacy and help secure a bright future for the business by expanding its customer offering.
"It will create advantages for customers in terms of operations, service and the ability to minimise cost increases by operating a lean structure as part of the global EV Cargo business."