The Co-operative has begun a trial of trucks fitted with enhanced safety features for cyclists as the firm seeks to implement new systems to reduce the risk of accidents between its delivery fleet and other road users.

The firm has acquired ten 14-tonne DAF LF 180 refrigerated vehicles fitted with a variety of enhanced cyclist safety features. These include sensor systems which alert the driver of the proximity of a cyclist or pedestrian, extra indicators and side-guards between the rear axle and the rear of the vehicle, a camera system with infra-red LED lights and a monitor in the cab, which is activated by the nearside indicator switch at low speed that also acts as a reversing camera. The trucks also have an audio and visual left turn alarm, and cyclist warning stickers on the rear.
The trucks will be operating from depots in West Thurrock, Essex, and Plymouth, and distributing produce to the firm's food stores across the south and south east region, particularly in London.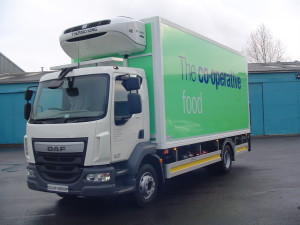 Ken Thompson, The Co-operative Food's national transport fleet manager said: "Around 19,000 cyclists are killed or injured in reported road accidents in this country every year, and cycling casualties have also risen in recent years as cycling's popularity increases.
"Our drivers work on some of the busiest roads in the country, especially in London, and we are trialling these new safety features on our delivery vehicles to help reduce the risk of accidents, and the feedback we have had so far has been extremely positive."
The additional cycle-friendly featured were implemented in collaboration with vehicle body builder, Gray and Adams in Dunfermline.