Whitbread has agreed to sell its Costa coffee business to Coca-Cola for £3.9 billion saying that combining the Costa brand with Coca-Cola's global scale, product and distribution capabilities would allow more rapid expansion overseas.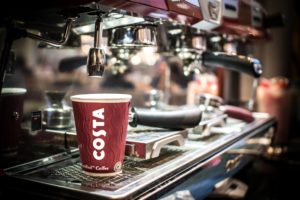 Costa was acquired by Whitbread in 1995, for £19 million when it had 39 stores. It now has more than 2,400 coffee shops in the UK and 1,400 stores in more than 30 international markets. It operates the self-serve business, Costa Express, with 8,000 Costa Express self-serve machines in eight countries. Costa also operates an in-home distribution and wholesale coffee business.
James Quincey, Coca-Cola president chief executive, said: "Costa gives Coca-Cola new capabilities and expertise in coffee, and our system can create opportunities to grow the Costa brand worldwide. Hot beverages is one of the few remaining segments of the total beverage landscape where Coca-Cola does not have a global brand. Costa gives us access to this market through a strong coffee platform. I'd like to welcome the team to Coca-Cola and look forward to working with them."
After the sale, which needs shareholder approval, Whitbread will focus on expanding its Premier Inn hotel business.