Irish start-up Coll-8 says it is looking to "transform" e-commerce through its partnership with retailer BWG Foods.
Coll-8 will use the footprint and logistics infrastructure of BWG Foods to consolidate e-commerce orders for collections and returns.
Dave Field chief operations officer for Coll-8, and founder of Irish delivery specialists Nightline, said: "Up to now, consumers buying online have found that collection of purchases or the return of unwanted goods has been anything but convenient.
"Our agreement means being able to capitalise on a much more comprehensive network of locations across Ireland to pick-up and return parcels, places where more than one million people shop every day already.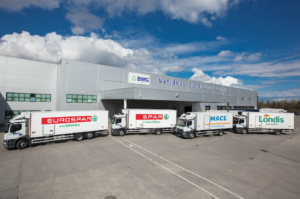 "Deliveries will be made at the same time as store stock and using BWG's fleet too, something which means less hassle for stores and an enormous reduction in carbon emissions and traffic."
The partnership between Coll-8 and BWG Foods will be run from the retailer's hub at Baldonnell, County Dublin.

BWG Foods operates in 1,092 individual locations across the Republic of Ireland under brands such as Spar, Mace, XL and Londis, and has a 280-strong fleet.
BWG's Logistics Director, Joanne Mellon, said that the tie-up with Coll-8 offered "tremendous additional benefits" to customers and store managers alike.


"Our reputation is founded on being conscious of our responsibilities to the individuals who shop and work in our locations across Ireland, and we are always interested in opportunities which might improve our relationships with both.

"Coll-8 may be a start-up but it's run by individuals who arguably understand the Irish e-commerce delivery sector better than anyone else.