Norwegian food retailer Coop is expanding its central goods distribution centre in cooperation with Witron to give a 33 per cent higher picking volume.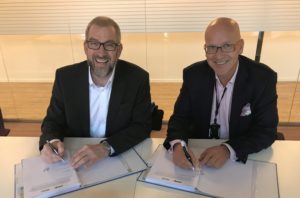 The 52,000 sq m DC near Oslo airport opened in 2014 and currently serves more than 1,200 stores.
When the expansion project is completed in May 2022, it will have a total area of 84,000 sq m and have a one-third higher picking volume – a total of 600,000 cases, using Witron's OPM, DPS and CPS solutions.
In addition to 11 COM machines (then a total of 42), extra automated pallet aisles, tray AS/RS aisles, stacker cranes, and conveyor system components will be installed in all temperature zones. The capacity of the fully automated shipping buffer is also almost doubled.
"The existing space will be used for integration and a new building part will be erected", explains Halvor Nassvik, senior project manager at Coop. "The simple scalability and expandability of the Witron systems was already an important decision point when we started to design the logistics centre".