UK commercial vehicle production increased 26.5 per cent in November, driven by a doubling of production for the UK market which offset a small drop in exports.
Figures from the Society of Motor Manufacturers and Traders show total production in November was 7,983 of which 4,122 went into the home market.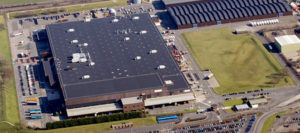 For the first 11 months of the year, production reached 78,163, up five per cent up on last year. Some 59.6 per cent of production was exported.
SMMT chief Mike Hawes said: "While the boost to commercial vehicle production for the home market is certainly welcome news, it is important to remember that large fleet orders can have a big impact on this small volume sector. The very significant increase follows weak performances in the previous two Novembers and small volumes at the beginning of the year.
"Despite the growth in domestic demand, exports continue to take the majority of output overall so any weakening in global markets will be a worry. Maintaining the success of the sector depends on the UK remaining competitive and that means ensuring the preservation of the beneficial trading conditions we currently enjoy."