German 3PL Dachser has set out plans to replace all of its European ground conveyors -some 6,000 – with vehicles powered by lithium-ion batteries by 2022.
Lithium-ion technology has already been introduced in the Radeburg and Erlensee (food logistics) branches. It will now be followed by construction and expansion of facilities, for example in Freiburg and Munich, the plans for which will include the necessary electrical infrastructure from the outset.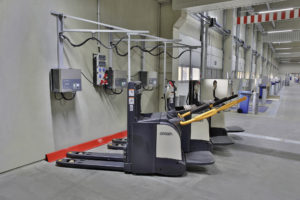 By 2022, Dachser wants to convert all its road logistics locations in Europe to li-ion technology. The switch will be made step by step; locations will not operate both technologies together.
The company highlight the fact that compared to conventional lead-acid batteries, the lithium-ion variety lasts three times longer and boasts significantly shorter charging times.
"When you factor in the savings in avoided maintenance and damage costs, since the batteries no longer have to be taken out of the vehicle every day for charging, then having a lithium-ion fleet has already paid for itself today," said André Bilz, team leader fleet management terminal equipment.