Dachser is to build a 5,175 square metre logistics centre in Rochdale to replace its existing site.
The development of the 3.7 hectare site at Kingsway Business Park near junction 21 of the M62 represents a £14.4 million investment.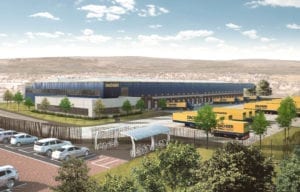 The new facility will have 49 dock loading doors and an additional four level access doors. There will be an internal area of nearly 7,000 square metres, including office space.
Since the acquisition of JA Leach Transport in 2010, including the current site of Dachser operations in the North of England, business has grown fivefold, necessitating the warehouse expansion.
Managing director Mark Rollinson said: "With the extended resource provided by this new facility we will satisfy the demands of our customers' global integrated supply chains as well as a sustained increase in UK exports delivered through Dachser's extensive European distribution network."