DAF Trucks hit a market share of 16.6 per cent in Europe in the heavy truck segment and a 9 per cent share in the light truck segment in 2018.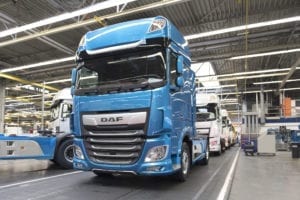 The European market for trucks of 16+ tonnes amounted to almost 319,000 trucks in 2018 compared to 306,000 in 2017. DAF was a heavy truck market leader in seven countries, including the UK with 26.5 per cent in 2018. It has grown to be Europe's second largest brand in the heavy truck segment.
Likewise, DAF held a 9 per cent market share in the light trucks market segment. It remains the market leader in the light trucks class in both the United Kingdom (32 per cent) and in Ireland (18.2 per cent).
"The European economy has been very strong over the past year. This resulted in a high demand for transportation with a corresponding requirement for trucks," said DAF Trucks president Harry Wolters.
DAF produced over 67,000 light, medium and heavy trucks in 2018, a 10.1 per cent over the previous year. DAF estimates a volume of between 290,000 and 320,000 heavy truck units for 2019.
"2018 has seen us lay a fantastic foundation for future growth in conjunction with our professional dealers," added member of the Board of Management with responsibility for marketing and sales Richard Zink.