DAF trucks and VDL Groep have partnered to create their first fully electric truck for high volume city distribution with zero emissions.
The EV truck is equipped with a 210-kW electric motor and is powered by a 170-kWh lithium-ion battery pack. It can travel up to 100km on a full charge and can be quickly charged in just half an hour, or 1.5 hours to reach full charge.
DAF trucks is supplying the cab and chassis, while VDL provides the truck engine. The vehicle has a gross combination weight (GCW) of less than 40 tonnes.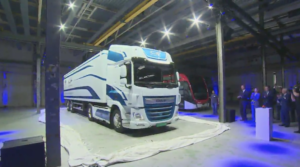 The EV truck has been tested in urban areas and the next phase is to develop other eclectic vehicles to enter and stay in the city. "There is not a one size fits all solution for all the world," said DAF Trucks president Preston Feight.
The new EV truck aims to provide customers with sustainable zero emission transport. "Taking responsibility for our sustainability," said Willem van der Leegte, president and chief executive of VDL, "is what I call true added value."
Modern trucks are 96 per cent more efficient in reducing NOX emissions but we are "not anywhere near being finished," said Feight. We are "going in a new direction and new technology is taking place in front of us." This is a "future in which technologies will play a critical role."