Automatic Guided Cart (AGC) is a flexible and cost-effective material handling solution from Daifuku's Jervis B. Webb Company. It is ideal for moving products on an assembly line or transporting goods throughout a plant or warehouse. SmartCart AGC provides reliable and consistent point-to-point movement of everything from small parts to heavy pallets.
What makes SmartCart AGC's so flexible and cost-effective?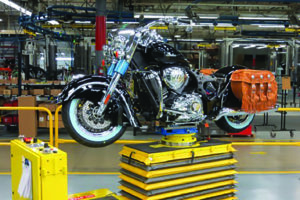 SmartCart AGCs can be either guided by magnetic tape or by natural feature navigation, either method allows you to quickly install or modify the guide path in as little as a few hours. In addition, SmartCart AGC has numerous load handling options to meet your specific needs. Over time, the load handling carrier can be replaced to accommodate different products, protecting your initial investment.
Furthermore, SmartCart AGC is much cleaner and quieter than traditional conveyors. With a SmartCart AGC system, you have the ability to add SmartCart AGCs if you need to increase capacity or remove them if you want to reduce capacity.
Best of all, the affordability and flexibility of SmartCart AGC allows you to reap immediate benefits by delivering a fast and impressive payback in as little as three months.
Webb's SmartCart AGC provides multiple navigation options to meet the specific needs of your environment. The most widely used option is magnetic tape, which is installed by merely cleaning the floor and applying the tape. Transponder tags can be placed on the floor to indicate locations where SmartCart AGCs are to perform assigned tasks. Various tasks such as stopping, increasing/decreasing speed, lifting and lowering can be performed at different locations.
Another alternative, Webb's new SmartSteer™ technology allows you to program a SmartCart AGC to intentionally leave the navigation path.