Mitsubishi Fuso, part of the Daimler group, has started production of the Fuso eCanter all-electric light trick at Tramagal in Portugal.
"With today's start of production of the eCanter, we become the first global manufacturer to produce an all-electric truck in series," said Marc Llistosella, president and chief executive of Mitsubishi Fuso Truck and Bus Corporation and Head of Daimler Trucks Asia.
"From now on we can address the growing demand for locally emission free delivery trucks in Mega-Cities. We already received the first customer orders and will mark the global launch of this truck in one of the most iconic Mega-Cities, in New York, this September. Our Portuguese plant does not only produce the trucks for Europe and the US, we also benefit from a close cooperation with the authorities in Portugal and Lisbon testing the trucks there since 2014."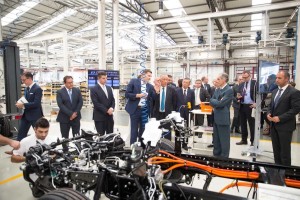 The eCanter is produced in line with the conventional Canter light-duty truck at the Tramagal plant. Only the electric-powertrain specific components will be installed in specific boxes along the production line. The vehicles coming from Tramagal, Portugal will be handed over to customers within Europe and the US within the next month.
The eCanter has a range of 100 kilometres and a load capacity of two to three tons – depending on body and usage. The vehicle's electric powertrain contains six high voltage lithium ion battery packs with 420 V and 13.8 kWh each.
The battery packs are being delivered from the 100 per cent Daimler subsidiary Accumotive in Kamenz, Germany.
The company says that in comparison to a conventional diesel truck, it offers savings of up to 1,000 Euro per 10,000 kilometres on operating costs.
The Portuguese president Marcelo Rebelo de Sousa, joined members of the government, Mitsubishi FUSO Truck Europe and MFTBC executives at the launch.