Damco has moved into a new 36,000 sq ft energy-efficient warehouse at London's Heathrow Airport to  its airfreight offering.
The freight forwarder has also moved its airfreight operations into offices at the North Feltham trading estate, which is three miles from Heathrow's cargo terminal, to support its customer base of UK retailers.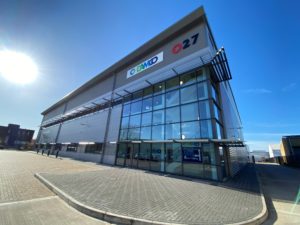 The bonded facility has a Building Research Establishment Environmental Assessment Method (BREEAM) rating of Excellent and a Grade A Energy Performance Certificate (EPC).
The new facility, which is open seven days a week, is located at SEGRO Central Spacewaye in the North Feltham trading estate.
Anthony Akerman, MD, UK and Ireland, at DAMCO, said: "We are working with our clients closely to help reduce their CO2 footprint.
"Their focus on a triple bottom line to satisfy the goals of finance, environment, and ethical and social drivers to create sustainability means we need to remain creative in our approach.
"By utilising our new facility, we will help to reduce CO2 on air shipments by consolidating clients' cargo at origin in order to book on direct flights rather than use transhipment hubs.
"This allows us to kill volumes on the shipments, providing similar non-direct pricing for cargo that actually flies on a direct flight, reducing the CO2 footprint."