Multimodal specialist AV Dawson has opened a £6.5m steel store at Riverside Park in Middlesbrough which will serve the automotive industry in the North East.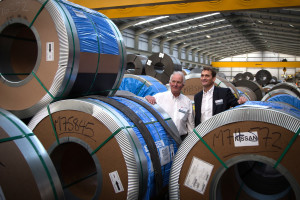 The 102,263 sq ft rail connected facility is the third and final phase of the 77-year-old company's £12.5m growth plans, which have been part-funded by £1.2m from the government's regional growth fund.
The plans, which have included building a new £2.6m intermodal rail terminal, Tees Riverside Intermodal Park, and a new £3.4m deep water quay, have generated 62 new jobs.
The store, which is capable of providing storage for up to 58,000 tonnes of steel coil, has a rail track running direct into it from Middlesbrough Goods Yard. More than 270,000 tonnes of steel per year will arrive by rail from Tata Steel in Port Talbot, South Wales before eventually heading by road to Sunderland-based car giant Nissan on the back of Dawson's specialist steel coil carrying trailers.
It has an air handling dehumidification system to prevent condensation and ensure the steel is kept in pristine condition with both heat and power being supplied by ground source heat pumps driven by solar panels.
Politicians, Tata Steel executives and the Middlesbrough Mayor were among the guests invited to official opening of the site. The new store was opened by Rishi Sunak, the prospective parliamentary candidate for Richmond, North Yorkshire.
"The facility is conditioned to hold steel in pristine condition indefinitely, enhancing quality, driving efficiencies, and building confidence in the supply chain," said Gary Dawson, managing director of AV Dawson (pictured with chairman Maurice Dawson).
And Mike Nightingale, head of logistics at Tata Steel Europe, said: "We're delighted to extend our close cooperation with AV Dawson to improve our supply chain to the North East of the UK. The new warehouse underlines our commitment both to support our customers within the local area, and reduce the environmental impact of our activities."