Schenker AG is to acquire a 75 per cent stake in Redhead Holdings early next year, and merge it with its existing DB Schenker Logistics business to create a joint venture that will trade as Redhead International.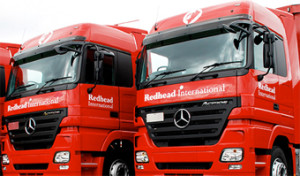 The new land transport organisation will have more than 300 vehicles and operate from five regional depots, strategically placed offices and partner relationships across the UK.
Bradford-based Redhead operates groupage services to more than 40 European and North African countries including specialist services to and from Eastern Europe and Russia. It is also a member of the Palletforce network.
In the year to 31 March 2015, Redhead Holdings produced an operating profit of £1.5m on turnover of £33.3m.
Ewald Kaiser, the board member for Land Transport at Schenker AG, said: "This acquisition underscores our strategy to strengthen and grow our pan-European network. It improves our access to the UK market and the combined resources will facilitate our strategic growth aims."
Tony Suggitt, managing director of Redhead International, said: "The new venture brings the best of both companies together and will further strengthen the infrastructure of our UK and European network."
The takeover is still subject to approval by the relevant authorities. A takeover of the remaining 25 per cent share is on the cards after four years.