DB Schenker has launched a logistics service specifically for the movement of battery technologies.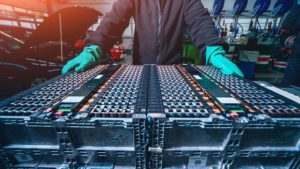 The service will cover the full lifecycle of a battery, incorporating inbound temperature-controlled transport of materials to production sites as well as the outbound transport of finished goods in approved and labelled dangerous-goods packaging.
DB Schenker will also store batteries separate from other combustible goods in dust-free warehousing, with lithium batteries kept in dry and well-ventilated areas.
Reverse logistics, including the recycling or disposal of batteries according to national legislation and inclusive of damaged or defective batteries, also forms part of the service.
Rainer Kiefer, executive vice-president of global sales at DB Schenker, said: "Over many years we have gathered a deep expertise in the automotive, electronics and semiconductor industries. We are now combining our know-how and skills in a cross-industrial solution. Given our profound experience, we are also happy to offer consulting and training to companies with requirements for their battery supply chains."