Schenker has opened its first low-carbon city distribution centre in Oslo which will electric cars and e-bikes to reduce CO2 emissions of city goods distribution by 80 per cent.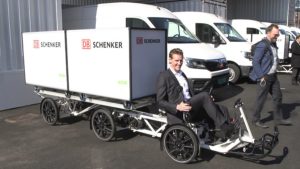 Oslo City Hub will be located at Filipstadkaia in the centre of the city. The building will cover 457 sq m and is being constructed from containers. All goods will be delivered by electric trucks and e-bikes.
DB Schenker aims to achieve zero emissions in all city distribution in Norway by the end of 2020 and its Oslo City Hub project is the first blueprint of how to achieve this.
"Digitisation and more sustainable solutions will be key competitive factors for future logistics. We at DB Schenker already started this future," said DB Schenker chief executive, Jochen Thewes. "With the low-carbon Oslo City Hub, we are taking another step to dramatically reduce CO2 emissions in our day-to-day logistics business."