Debenhams plans further warehouse consolidation and automation along with a supply chain review, after revealing a pre-tax loss £491.5 million for the year to 1st September.
The department store group has increased is store closure plan from ten to 50 and it is developing a lower-cost approach to another 20 stores.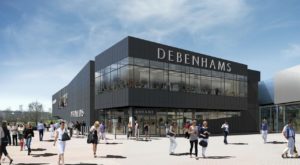 Last year, it set out plans to close its Northampton distribution centre along with some regional warehousing alongside an on-going automation programme.
The warehouse changes are part of a cost saving plan which, it said, delivered £12m savings in 2018. It has identified a further £30m of savings for 2019, annualising to about £50m by 2020.
"Key elements of these savings include: further review of support centre overhead; further warehouse consolidation and automation; a further review of central costs following the implementation of the new operating model; and an end-to-end structural review of the business, including the efficiency of the supply chain.
"We are reducing planned capex to c.£70m, with future investment focused on priority, faster-returning projects under our Debenhams Redesigned strategy."
Group sales were down 1.8 per cent to £2.9 billion last year, while underlying pre-tax profit was down 65 per cent at £33m. Exceptional items totalled £524.7m. These included £13.6m for the Debenhams Redesigned transformation programme; warehouse closure costs of £2m plus £9m in transition costs; asset write-offs of more than £80m; exceptional store costs of £117.5m and goodwill impairment of £302.1m.
Chief executive Sergio Bucher said: "It has been a tough year for retail in 2018 and our performance reflects that. We are taking decisive steps to strengthen Debenhams in a market that remains volatile and challenging. Working with our new CFO Rachel Osborne, and the board, I am determined to maintain rigorous cost and capital discipline and to prioritise investment to achieve profitable growth. At the same time, we are taking tough decisions on stores where financial performance is likely to deteriorate over time."