DHL Express has launched riverboat parcel deliver service on the River Thames.
The service is operated by Thames Clippers Logistics, and runs daily to transport packages into London.
The shipments will be loaded from electric vehicles onto the riverboat at Wandsworth Riverside Quarter Pier, before travelling along the Thames into central London, docking at Bankside Pier for final mile delivery on DHL courier bicycles.
Ian Wilson, Chief Executive UK and Ireland at DHL Express said: "With traffic and poor air quality becoming an increasing problem in urban areas like London, we're committed to finding a better blend of transport.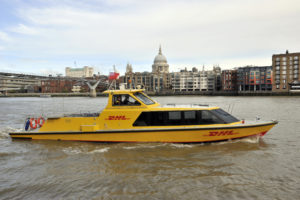 "This new and unique service, combining electric vehicles, riverboat, and last-mile bikes creates fast and efficient access across the capital."
Sean Collins, Chief Executive of Thames Clippers Logistics, said: "The river is a widely under-used natural source of transportation.
"As a business we strive to maximise the uses of the river as a mode of transport and will continue to reduce congestion on London's roads."